VISUAL SIGNATURE OF THE 2017 SEASON: A MEETING BETWEEN VISUAL ART AND MUSIC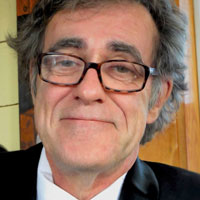 The visual signature of the 2017 season is a creation of painter
Luc A. Charette
and is part of an exclusive mini-series of 4 paintings created especially for the Festival.
The Beata Virgines mini-series was created by artist Luc A. Charette in Baie-de-Bouctouche, New Brunswick, in January 2017. It includes works numbered 1 to 4, on a metal support. Each was painted with acrylic on an encyclopedia tome, in a 6.5 " x 9.75" x 1" format. The series was inspired by Claudio Monteverdi's Vespers for the Blessed Virgin.
2017 Visual signature: Silent Auction
Take part in a silent auction to benefit the Festival!
The painting no. 1, used for the visual signature of our 2017 season, is on sale through a silent auction, from April 6 to July 29, 2017. All proceeds will go to the Festival. The bids start at $500. Anyone wishing to participate in the auction is invited to bet by contacting the Festival office by telephone (506-344-3261) or email (
baroque@lameque.ca
).
The works are on sale
Support the artist and the Festival by purchasing a painting! Works no. 2, 3 and 4 are on sale for $400 each.
For more information, call the Festival office: 506-344-3261.
LUC A. CHARETTE BIOGRAPHY
Luc A. Charette was born in Edmundston in 1952. He graduated from the Université de Moncton with a Bachelor of Arts, in 1976, and Bachelor of Education, in 1978. He also holds a certificate in advertising photography from the School of Modern Photography (Montreal, 1974), as well as a Post-graduate degree in Information Technology (Université de Moncton, 1998). He studied visual arts at the Université du Québec à Montréal and the Université de Moncton (Bachelor of Visual Arts, 1985). In 1990, he attended a training course in marketing in the cultural industries at the Agence de coopération culturelle et technique with the École Internationale de Bordeaux, in France. He subsequently earned a Master of Arts with distinction (Media Arts) from the École des arts visuels (School of Visual Arts) at Université Laval, Québec, in 2003.
His first professional exhibition dates back to 1972 and was shown at the Galerie Colline in Edmundston. Since 1995, he has been seriously interested in media arts and web programming. In his multidisciplinary research, he explores reality (through artistic installations and artistic performances), the visual (through photography and paintings) and the virtual spaces (Internet and social networks). He is mostly interested in the links between popular imagery, time, duration, language systems, identity, representation and interactivity.
His work has earned him several grants from both the New Brunswick Arts Board and the Canada Council for the Arts. Since 1980, he has mounted more than 40 individual exhibitions and performances and has participated in more than 50 group exhibitions. He has received several awards including: Artist of the Year in visual arts at the Éloizes Awards in 2004 and 2014; winner of the contest for the creation of the Honourable Louis J. Robichaud Memorial in 2006; and, in 2009, finalist for the sculpture project of the sculpture garden of the Beaverbrook Art Gallery as well as the Strathbutler Award.
He was director-curator of the Louise and Reuben-Cohen Art Gallery of the Université de Moncton from 1988 to 2009. He was also a visual arts representative at the New Brunswick Arts Board (1991-1993) and President of the NB Acadian Association of Professional Artists (AAAPN-B, 1991-1993). He was general Director of the New Brunswick Arts Board (ARTSNB) in 2009-2010.
Since the beginning of 2011 he has devoted himself solely to artistic endeavours, working mainly in contemporary painting. He created a permanent museum sculpture installation in the atrium of the new Transportation and Discovery Museum, Place Resurgo, Moncton, in 2014. His most recent solo exhibition entitled "Dichotomy" was presented at the Centre des arts et de la culture de Dieppe in January 2015.