NEWS
Winners of the Mathieu Duguay Early Music Competition Announced
Young violinist Marie Nadeau-Tremblay was awarded first prize
Lamèque, N. B., Saturday, July 27, 2019: The International Lamèque Baroque Music Festival presented last night the final round of the fourth edition of the Mathieu Duguay Early Music Competition.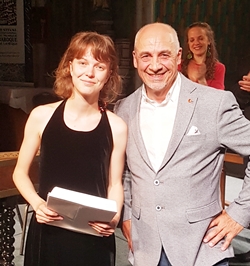 Trumpetist Duncan Campbell, violinist Marie Nadeau-Tremblay and harpsichordist Jonathan Salamon performed brilliantly, accompanied by the Mission Saint-Charles Orchestra, conducted by Hank Knox. A little more than 200 music lovers were present for the concert where music from Bach, Vivaldi and Fasch was played.
Young violinist Marie Nadeau-Tremblay won first prize ($3,000) and was also awarded the People's Choice Prize ($500), the Montreal Baroque Festival Prize and the Été musical de Barachois Prize. Trumpetist Duncan Campbell won the second prize ($1,500) and the Founder's Choice Award ($500). Harpsichordist Jonathan Salamon won third prize ($1,000). All three finalists were warmly applauded by the audience.
The jury was comprised of soprano and harpsichordist Dorothéa Ventura, harpsichordist Hank Knox, violinist Olivier Brault, bassoonist Mathieu Lussier, and harpsichordist Francesco Corti.
Photo Caption:
Marie Nadeau-Tremblay receives the first prize from Daniel Chiasson, member of the Festival board of directors.