VISUAL SIGNATURE OF THE 2018 SEASON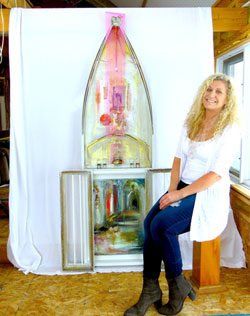 SUZANNE ALBERT was born in New Brunswick. Her career is marked by several exhibitions. Her works have been presented in New Brunswick, Nova Scotia, Quebec and Ontario, as well as internationally, since 2009.
Baroque at the edge is a series of six works produced exclusively for the Festival. The series was inspired by Purcell's music presented during our 43rd season under the theme "Royal Concerts".
Among the six works (12" x 12" format), Le couronnement was chosen to be used as the 2018 visual signature of the Festival.
2018 Visual signature: Silent Auction
Take part in a silent auction to benefit the Festival!
The painting Le couronnement, used for the visual signature of our 2018 season, is on sale through a silent auction, from April 6 to July 28, 2018. All proceeds will go to the Festival and the artist. The bids start at $350. Anyone wishing to participate in the auction is invited to bet by contacting the Festival office by telephone (506-344-3261) or email (baroque@lameque.ca).
The works are on sale
Support the artist and the Festival by purchasing a painting! The five other paintings are on sale for $500 each.
For more information, call the Festival office: 506-344-3261.
Collection: BAROQUE AT THE EDGE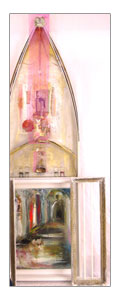 In addition to the series of six paintings, Suzanne Albert drew inspiration to produce a distinct large format work entitled Oratoria - oeuvre dyptique. Please note that this painting is not included in the silent auction.