2017 SEASON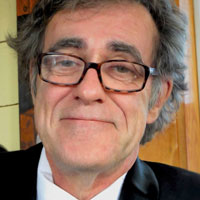 The visual signature of the 2017 season is a creation of painter Luc A. Charette and is part of an exclusive mini-series of 4 paintings created especially for the Festival.

The Beata Virgines mini-series was created by artist Luc A. Charette in Baie-de-Bouctouche, New Brunswick, in January 2017. It includes works numbered 1 to 4, on a metal support. Each was painted with acrylic on an encyclopedia tome, in a 6.5 " x 9.75" x 1" format. The series was inspired by Claudio Monteverdi's Vespers for the Blessed Virgin.

2017 Visual signature: Silent Auction

Take part in a silent auction to benefit the Festival!

The painting no. 1, used for the visual signature of our 2017 season, is on sale through a silent auction, from April 6 to July 29, 2017. All proceeds will go to the Festival. The bids start at $500. Anyone wishing to participate in the auction is invited to bet by contacting the Festival office by telephone (506-344-3261) or email (baroque@lameque.ca).

The works are on sale

Support the artist and the Festival by purchasing a painting! Works no. 2, 3 and 4 are on sale for $400 each.

For more information, call the Festival office: 506-344-3261.